The Hedge Witch
Description:
Take on the role of the local hedge witch. Cure ailments, make dubious love potions and even hex your enemy. The choice is yours!

With your trusted familiar and the nifty cottage your mentor left you, you'll have to deal with a runaway prince, a lovestruck dryad and even confront the bothersome changeling that won't leave you alone. It's up to you whether or not you'll help them.
Currently available: Chapter One
Characters: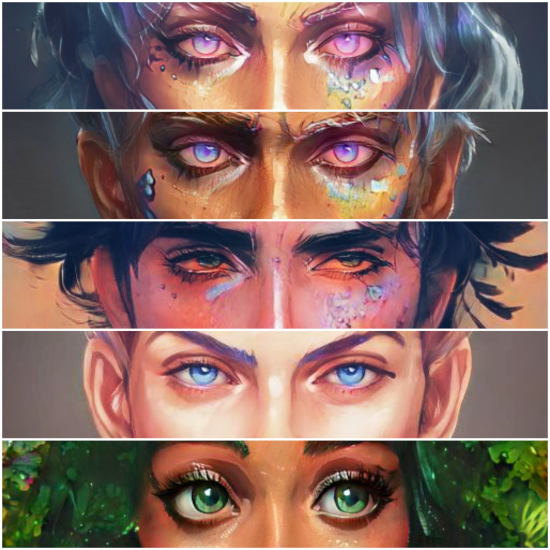 In order from top to bottom:
Myrdril (female)
Myrdril (male)
Prince Barlow
Vale
Peony
Character Descriptions:
Myrdril - gender selectable (your enemy/possible RO): Myrdril is the other hedge witch in the forest. Arrogant and rude, Myrdril sees themselves as the far superior hedge witch and will stop at nothing to discredit your skills. There are rumours that Myrdril is a changeling, swapped at birth with a fae child.
Prince Barlow - he/him (the runaway Unseelie Prince/your customer): Prince Barlow is a runaway Unseelie Prince. Meant to take reign of the Unseelie Court, Prince Barlow left it all to pursue a relationship with a mortal named Vale. Some may call it romantic, but most consider Prince Barlow to be too weak to rule over the wicked Unseelie.
Vale - he/him (the mortal companion/your customer): Vale is a mortal man who found himself wandering through the forest. Discovering the fae, Vale soon become besotted with Prince Barlow and decided to remain behind, forgetting all about the mortal world.
Peony - she/her (the lovesick dryad/your customer): Peony is a dryad with a penchant for bawdy love stories and soul mates. Peony can be fickle and believes that you can woo anyone with the right spell. Currently, Peony is obsessed with a kelpie.
Arstus/Adtril - gender selectable (your mentor and guardian): Your mentor took you in as a baby, after finding you at the doorstep of their cottage. Your mentor has taught you everything about magic and has since passed the cottage over to you, leaving you in charge while they go off travelling.
Your cat - he/him, name selectable (a wicked king turned into a cat/your familiar): Your cat is a familiar that was gifted to you by your mentor. You soon discovered that your cat is really a wicked king who was cursed and subsequently turned into a cat. Snarky and rude, your cat has no qualms in insulting you or your customers.
Credits:
Background image (game page): Freepik.com.
In game images made using Canva.
Character art made using ArtBreeder.